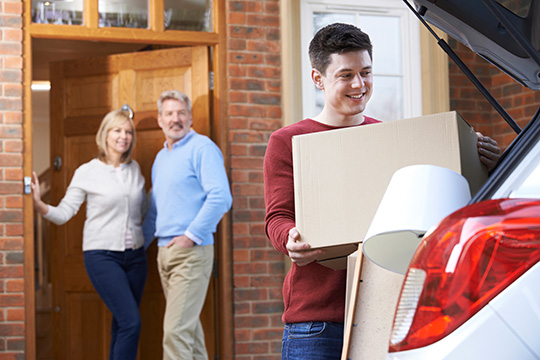 Todd's Self Storage is excited to now offer College Summer Break Storage! This new program is so much more than just a storage unit. There's no security deposit required, no lock to purchase, plus we'll provide the student with the boxes, packing tape, labeling materials, and even a marker! Bring your stuff to us and we'll pack it away in our clean, secure facility for the summer!
The purpose of this college storage program is to have a dedicated space, set aside year-round, specifically for college student storage. We've purchased a facility in Oakland, Maine that is less than a 10-minute drive from both Colby College and Thomas College. We are a bit further from other Maine institutions but welcome students from those as well.
Space is limited, sign up today!
How it Works-
For one affordable price, a student can bring us their items at the end of the school year. We will store them in our clean and secure storage facility until the student returns for the fall semester. When you sign up, you will find out when and where you will get your packing materials, then we'll schedule a date for your drop off and pick up. Easy Peezy!
We will provide each student with Heavy Duty boxes, packing tape and dispenser, labels and a marker. A "how to" description will be provided for labeling packages to ensure proper identification. Keep in mind packages need to be under 50lbs, if it's too heavy a surcharge will apply.
Pricing
Our summer storage program offers two affordable packages as well as the flexibility of per-item pricing for additional boxes and non-boxed items. Our Small package is designed to be less expensive than a small storage unit for the summer, even when an additional small or large Non-boxed item is added! For students wishing to pay by the month, rather than all at once, we'll gladly divide the cost into 4 monthly payments with no additional fees or interest.
Small package- 2 x-large Heavy Duty boxes, 2 medium boxes (12 cubic ft.), and 1 small Non-boxed item – $190.00
Large package- 4 x-large Heavy Duty boxes, 2 medium boxes (21 cubic ft.), and 1 small Non-boxed item – $275.00
X-large Heavy Duty box= 24"x18"x18" or 4.5 cubic ft.
Medium Heavy Duty box=16.5"x12.5"x12.5" or 1.5 cubic ft.
Additional boxes (price includes summer storage)-
Non-boxed items –
(items that will fit in one of our boxes must be stored in a box, except small mini-fridges and microwaves)
Small items- $35
Examples of Small items- Mini fridge under 3 cu. ft., microwaves, monitors and TV's under 33" diagonal, lamps, small night stands, fans.
Large items- $50
Examples of Large items- Bicycles, ski's, snowboard's, TV's over 33" diagonal, mini-fridge between 3 cu. ft. and 5 cu. ft., plastic tote or drawers, suitcase, trunk, gaming or desk chair, carpet, small file cabinet.
X-Large items like furniture, refrigerators larger than 5 cu. ft., mattresses and appliances will be considered and priced on a piece-by-piece basis and as space allows.
Please contact us for specific item clarification.
Car Storage is available in our fenced-in lot space at the facility for any students wanting to leave their cars for the summer.
Price for the full summer – $350.00
Other details-
Once dropped off, you will not have access to your belongings until the scheduled pick up date.
Fall and Spring semester storage will be available for students studying abroad at the same summer rates on a per-semester basis.
Our facility is not climate controlled; students should avoid storing items that may be damaged by excessive heat (Candles, Crayons, Scented wax melts, etc.) or excessive cold (anything that could freeze).
*What cannot be stored*
Food
Mirrors
Plants
Medications
Explosives (fireworks)
Hazardous Goods
Firearms/Ammunition
Items prohibited by law
Valuables like jewelry or expensive electronics should not be stored, just to be safe.